WASD FOOD SERVICES DEPARTMENT
Betsy O'Malley, Cafeteria Supervisor
Email: bomalley@wyomingarea.org
Phone: 570-655-2261
---
FOOD SERVICES UPDATE
Please visit the DHS website at

https://www.dhs.pa.gov/coronavirus/Pages/P-EBT-Questions.aspx

. The DHS website will provide the information needed, including an appropriate way to contact DHS via phone or online Inquiry Form, important dates, Frequently Asked Questions, etc. The links to the P-EBT information are available on the DHS website...
---
Welcome to the WASD Food Services Department Website. The district currently uses the PCS Revenue Controls POS system which integrates with PayPams for automated account balance payments for food service use. Information is listed below on this service along with instructions on how to setup an account to access or apply funds.
Click
MENUS AND FORMS
to view the district lunch menus, applications, forms, instructions, and other important Food Service related documents.
---
There are 3 ways to make payments on your child's account:
1. Checks - made payable to Wyoming Area Cafeteria
(*Please be sure to write your child's name in the memo section of the check)
2. Payments online via

PayPAMS
(See Information Below)
3. Cash .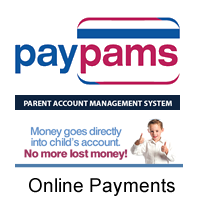 PayPAMS is a third party vendor making it possible for parents/guardians to make electronic payments for your student's cafeteria account. PayPAMS is a completely separate computerized system for use by WA's Food Services Department. This is a secure site.
---
Features of PayPAMS system are:
- Schedule e-mail notifications of account low-balance
- View your child's cafeteria PIN# account via the PayPAMS.com website
- Monitor your child's daily food purchases in the cafeteria
- Check the account balance in your child's account
- Make payments on-line using VISA, MasterCard, or Discover for a nominal fee of $1.95/transaction through PayPAMS
- Schedule automatic payments based on account balances
- Reduce the chance of lost money by making payments directly into your child's PIN# account for the cafeteria